Being held on the initiative of President of Uzbekistan H.E.Shavkat Mirziyoyev is aimed at further strengthening close and friendly ties between the two regions
Seven Experts from Centre for Global & Strategic Studies are attending this Conference on the invitation of Government of Pakistan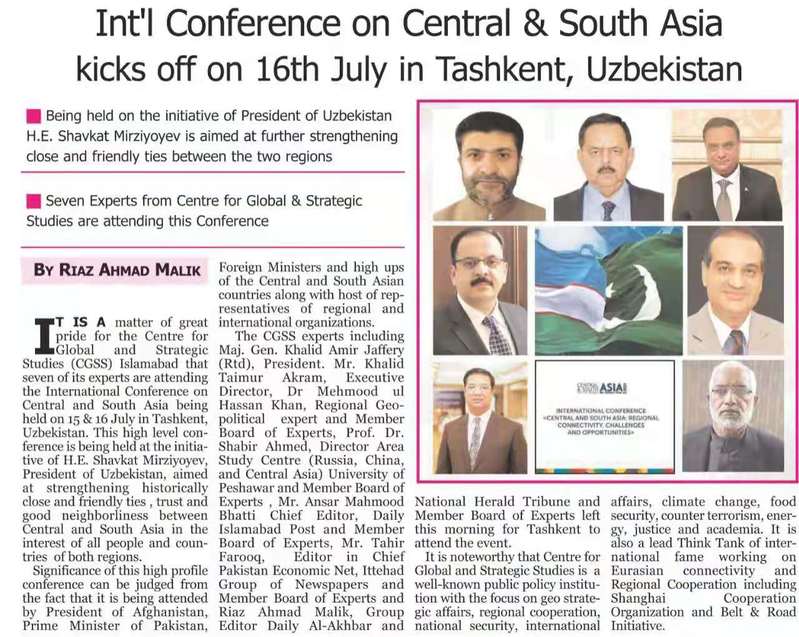 By Riaz Ahmad Malik
It is a matter of great pride for the Centre for Global and Strategic Studies (CGSS) Islamabad that seven of its experts are attending the International Conference on Central and South Asia being held on 15 & 16 July in Tashkent, Uzbekistan. This high level conference is being held at the initiative of H.E. Shavkat Mirziyoyev, President of Uzbekistan, aimed at strengthening historically close and friendly ties , trust and good neighborliness between Central and South Asia in the interest of all people and countries of both regions.
Significance of this high profile conference can be judged from the fact that it is being attended by President of Afghanistan, Prime Minister of Pakistan, Foreign Ministers and high ups of the Central and South Asian countries along with host of representatives of regional and international organizations.
The CGSS experts including Maj. Gen. Khalid Amir Jaffery (Rtd), President. Mr. Khalid Taimur Akram, Executive Director, Dr Mehmood ul Hassan Khan, Regional Geo-political expert and Member Board of Experts, Prof. Dr. Shabir Ahmed, Director Area Study Centre (Russia, China, and Central Asia) University of Peshawar and Member Board of Experts , Mr. Ansar Mahmood Bhatti Chief Editor, Daily Islamabad Post and Member Board of Experts, Mr. Tahir Farooq, Editor in Chief Pakistan Economic Net, Ittehad Group of Newspapers and Member Board of Experts and Riaz Ahmad Malik, Group Editor Daily Al-Akhbar and National Herald Tribune and Member Board of Experts left this morning for Tashkent to attend the event.
It is noteworthy that Centre for Global and Strategic Studies is a well-known public policy institution with the focus on geo strategic affairs, regional cooperation, national security, international affairs, climate change, food security, counter terrorism, energy, justice and academia. It is also a lead Think Tank of international fame working on Eurasian connectivity and Regional Cooperation including Shanghai Cooperation Organization and Belt & Road Initiative.
For Original Report, please view:
https://www.dailynht.com/epaper/page.php?id=3&edition=lahore&dt=14-07-2021