On 23rd May 2021, UNESCO organized the Online debate on "Creative Economy for Sustainable Development in East Asia". Professor Li Huailiang, the Dean of Institute for a Community with Shared Future, was invited as guest speaker for the webinar.Experts from China, Mongolia, the Republic of Korea, and Japan, with variety of backgrounds were invited to share their ideas and concerns about the creative economy for sustainable development in East Asia.
Since the outbreak of COVID-19, the creative economy has been facing multiple challenges, such as the lack of status of the artist, mobility and market access, copyright infringement, artistic freedom, the instrumentalization of arts and culture, and gender equality. The year 2021 has been declared the "International Year of Creative Economy for Sustainable Development" by the United Nations, which will be a chance to highlight culture's contribution to the global economy and sustainable development, as well as promoting a broad understanding of cultural and creative sector worldwide. East Asia is a dynamic space in terms of the cultural and creative economy, where the creative economy has shown its value to the global economy and social development. The pandemic has brought a new opportunity to reconsider the industries for the future landscape economically and socially.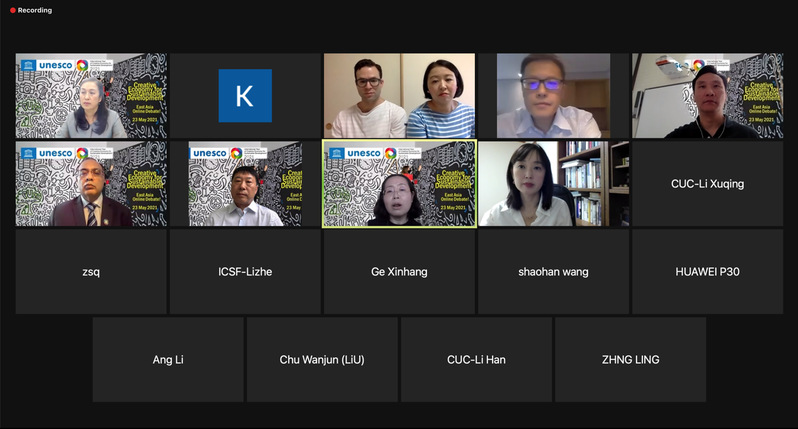 The Webinar: Online debate on "Creative Economy for Sustainable Development in East Asia" heldsuccessfully
Firstly, Ms. Hiroko Tsuboi-Friedman, the Expert Facility member for the UNESCO 2005 Convention on the Protection and Promotion of the Diversity of Cultural Expressions, briefly introduced the panelists as the moderatorof webinar. She expressed those five distinguished experts from different industries gathered here to discuss possible approaches to the sustainable development of Cultural and Creative Industries.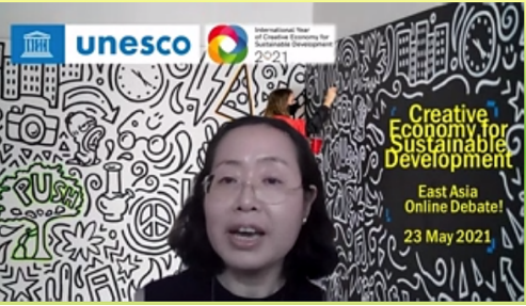 Ms. Hiroko Tsuboi-Friedman
The webinar's subject was "Building back better: towards a more resilient and impactful culture sector, throughout COVID-19 and the Decade of Action". Professor Shahbaz Khan, the Director and Representative of the UNESCO Beijing Office, gave opening remark for the webinar. He stated that culture contributed to the global economic future. UNESCO had made efforts to protect cultural expression, such as they partnered with major cultural events to expand the value of culture to the public.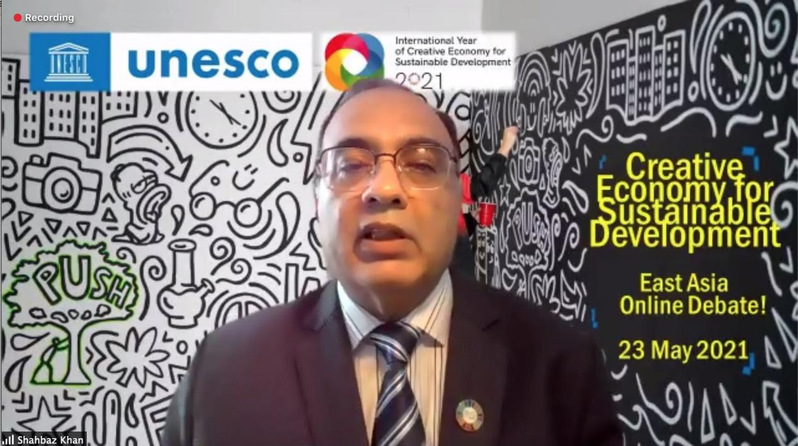 Shahbaz Khan
Professor Li Huailiang, the Dean of the Institute for a Community with Shared Future, Communication University of China, gave the keynote speech. Professor Li expressed his opinion surround "Digital Transformation of Creative Industries in China during the Pandemic". He stressed that cultural industries had been hit hardest during the pandemic. He provided Sanxingdui and Liangzhu Museums as examples to show how VR cloud exhibitions offered visitors an immersive experience. He also utilized e-commerce giants like Alibaba and JingDong to illustrate consumers were attracted by AR technology online and offline.
Professor Li reflected that digital transformation built emotional connections between individuals, enhanced mutual understandings, and promoted cultural diversity.
Professor Li Huailiang
Mr. Bodibaatar Jigidsuren from Mongolia gave his speech on "Regional Cooperation: 'Asian is Rising' What Role Culture and Creative Industries Play in the Crucial Moment?". Mr. Bodibaatar Jigidsuren stated, the COVID-19 led to the reductions of culture and creativity, which were the challenges people faced now. He emphasized that culture was collective expression, and it can play a crucial role in balancing social and economic dimensions.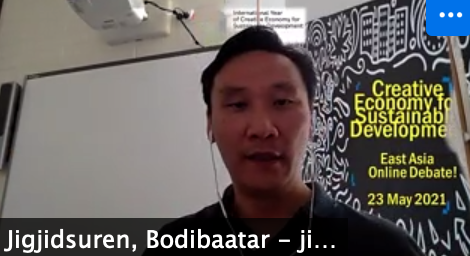 Mr. Bodibaatar Jigidsuren
Then Professor Xiang Yong, the Expert from Peking University, China, suggested his opinion about "Creative Economy and Rural Development and Culture DNA." He introduced the idea of "Cultural DNA", which is a unit of cultural information that mutates and is inherited like a gene and spreads like a virus from one mind to another. He demonstrated that inherited social culture was like gene that influencespeople's lifestyles. Although gene is invisible, there are differences between people'sappearances. The cultural genes did the same, invisible but could be distinguished from the nation's language, way of thinking and performing.
Furthermore, Professor Xiang Yong mentioned six types of rural industries: food processing, handicrafts, agriculture, creative cuisine, folk festivals, and countryside leisure that can be promoted to explore rural civilization and development.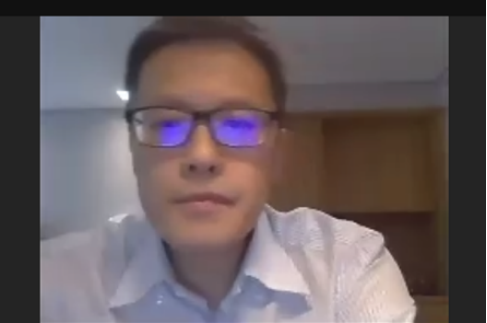 Professor Xiang Yong
Japanese experts Ms. Misako and Mr. Jeffrey Rosen expressed their ideas on the cultural art market. They suggested that artists need the market to support them for developing the culture and market in the long term. They highlighted that art was not competition nor industry, but activity. Art required a cooperative environment to sustain it.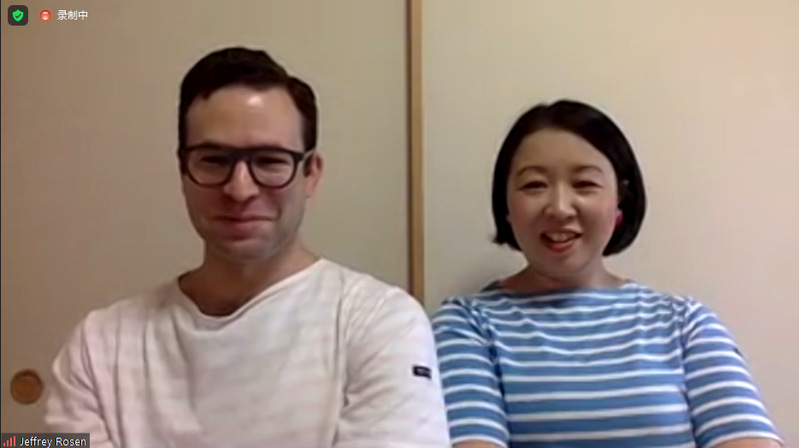 Ms. Misako and Mr. Jeffrey Rosen
The last guest, Ms. Yoonhyung Jeon, from the Korean Film Council, suggested that individual artists were a vulnerable group, especially during the pandemic. Her speech was about policy shifts in COVID-19 impact, focusing on the Korean film industry. She introduced several Korean supporting programs that aimed to help filmmakers and theaters. She emphasized that Korean films were influenced by East Asian cultures and creativities were part of cultural heritages and exchanges.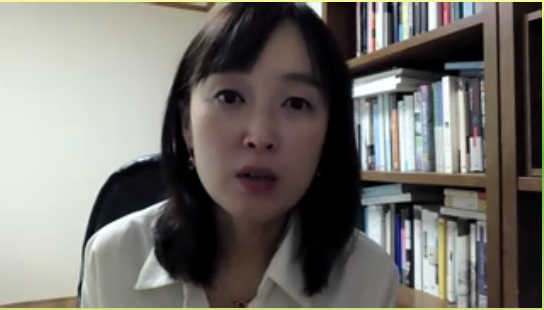 Ms. Yoonhyung Jeon
After the keynote speechsession, all panelists were invited for the next session of Open Discussion which was moderated by Ms. Hiroko Tsuboi-Friedman. During the open discussion, Professor Li Huailiang pointed out that the world has beengoing through a hard time, misunderstanding and prejudice between different cultures are still common. Cultural superiority and even hatred also exist. In his point of view, the scarcestresource in the world is trust. Cultural and creative industries have cultural attributes. What'smore,cultural exchanges, cultural trades,and cultural international cooperation can help people from different cultures to enhance mutual understanding and trust through dialogue. East Asia is the region that has benefited the most from globalizationprocess. East Asian countries can conduct mutually beneficial cooperation in the cultural products'production and distribution, job training, transnational investment and policy adjustment aspects.
Mr. Jeffrey Rosen underlined that the art market was accelerating, which limited tangible quality in social interaction. Professor Li Huailiangand Mr. Bodibaatar Jigidsuren reiterated the concept of globalization and cultural economy. Professor Li Huailiang pointed out that society should have more promotions and protections for cultural diversity. The world was experiencing a digital time, and the cultural industry should contribute more to enhance people to embrace a different culture.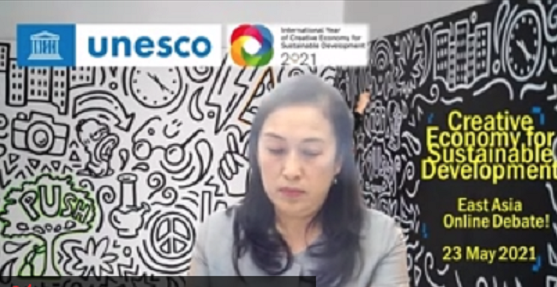 Ms. Himalchuli Gurung
Ms. Himalchuli Gurung, Programme Specialist for Culture, UNESCO Beijing Office, made the closing remark for Webinar. She expressed appreciation to all the joined experts from East Asia and concluded that the webinar not only created a platform for diverse dialogues with vibrant discussions but also provided an opportunity for the world to reimagine how culture could revitalize and contribute to society.
Report: Li Zhe & Liang Kairui