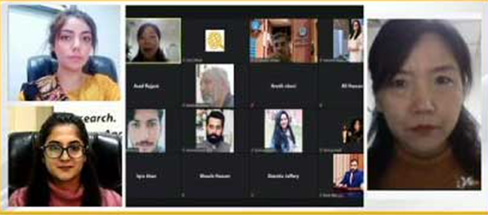 ISLAMABAD, November 24: The ninth session of the Online internship Program, "Evolving China in the Modern World"was held. This internship program is initiated jointly by the Center for Global & Strategic Studies(CGSS), Islamabad, and the Communication University of China, Beijing.
The theme for the ninth session of this internship was related to "China's Digital Economy and Digital Silk Road Cooperation" and it was conducted by, Prof. Ying Fang, School of Economics and Management, Communication University of China, Beijing.
The session was commenced with the opening remarks of Ms. Minahil Shawal Afridi, Research Executive, CGSS. She stated that China's Digital economy is indeed a very relevant and a very interesting subject keeping in view the current geopolitical and economic global developments, particularly in the post COVID-19 era.
Prof. Ying Fang explained the topic with a comprehensive presentation and shared interesting statistics regarding the use of technology across the world. She highlighted that due to pandemic lockdown internet and social media users increased globally. She shared a graphical representation of active users of major social media platforms in which Fackbook and YouTube topped the charts.
She also emphasized that China has become a global leader in key digital industries. Highlighting the e-commerce industry in China she stated that, Alibaba has set up a global platform connecting sellers and buyers from more than 200 countries. Chinese companies have also promoted the development of e-commerce and third-party payments in other countries by investing in local companies such as Airwallex in Australia and Lazada in South East Asia.
Discussing the Digital Silk road, Prof. Ying Fang stated that as part of the Belt & Road initiative, digital silk road has not only brought investments and jobs to the economies involved in the project but China has also empowered them with the ability to embrace the digital age.
She highlighted that China has signed a cooperation agreement with over 16 countries in building of the digital Silk Road, and launched the Belt and Road Digital Economy international Cooperation initiative with seven countries. Sha also mentioned that, Pakistani businesses joined Alibaba in 1999 when the e-commerce platform was launched, and there are currently tens of thousands of Pakistani Suppliers on the B2B platforms of Alibaba.
The session was moderated by Ms. Palwasha Nawaz, Deputy Director, Pakistan Research Center for a Community with Shared Future, Communication University of China, Beijing, China, and Project Executive, CGSS.
It is notable that scholars and students from across Pakistan, China and Tanzania have enrolled in this internship program to study and learn about Evolving China in the Modern World.